GV Sliding over Fixed Rooflight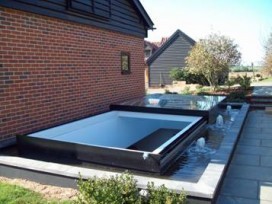 One of a Standard range of our sliding glass rooflights. A range of Standard Rooflights has been designed to offer the customer a more cost effective alternative to our bespoke sliding rooflight range.
The GV Standard Sliding over Fixed rooflight comes in 2 sections, one sliding section sliding over one fixed section, creating a 50% clear opening. All the glass used is flush to allow water runoff and easy cleaning.
All Glazing Vision sliding rooflights are low-noise in operation and have built in electronic solid-state controls with battery back-up, manual override, speed control and creep-speed sealing at end of travel as standard. Units are factory pre-assembled and tested, usually craned into position, fitted and commissioned within day, Glazing Vision installation recommended.
The rooflight is opened electrically, operated by a rocker switch positioned at the discretion of the client. It includes a 'one touch' facility, where the switch is pressed then released leaving the rooflight to open automatically. If you wish the unit to stop, press close once. If you wish to have the unit only part open, you can keep the switch pressed until this point is reached.
Phone: 01842 815581
Fax: 01842 813867
Email: jon@glazing-vision.co.uk
Website: http://www.glazing-vision.co.uk
Address: 36 Wimbledon Ave BRANDON IP27 0NZ
Other products from Glazing Vision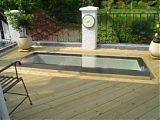 The Flushglaze fixed flat glass skylight can be tailored to meet many shapes and sizes from square, rectangular, triangular and a recently completed tear drop shaped Glazing Vision will identify...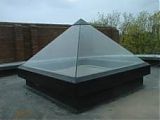 A 45 degree frameless glass Pyramid rooflight with manual/electric hinged opening or fixed variants. The clarity and longevity of glass ensures fantastic light transmission throughout the life of...
Back to Windows