GV Pyramid Rooflights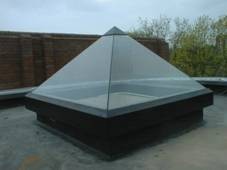 A 45 degree frameless glass Pyramid rooflight with manual/electric hinged opening or fixed variants. The clarity and longevity of glass ensures fantastic light transmission throughout the life of the building, typically 50% more than plastics over its life cycle. The shape of the Pyramid gives an excellent concentration of light and self cleaning characteristics with a stylish frameless design. Available in square or elongated configurations. Larger dimensions can be supplied as a bespoke glazing project with aluminium glazing bars; a bespoke bi-parting/sliding option is also available.
A rooflight which was again developed to meet the requirements of our clients is the frameless fixed Octagonal glass skylight. The Octagonal Pyramid is an extension to our pyramid range. Also on a 45 degree angle giving the rooflight excellent self cleaning credentials the octagonal pyramid is often chosen as a feature to enhance a building looking for sophisticated shape and light.
Phone: 01842 815581
Fax: 01842 813867
Email: jon@glazing-vision.co.uk
Website: http://www.glazing-vision.co.uk
Address: 36 Wimbledon Ave BRANDON IP27 0NZ
Other products from Glazing Vision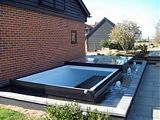 One of a Standard range of our sliding glass rooflights. A range of Standard Rooflights has been designed to offer the customer a more cost effective alternative to our bespoke sliding rooflight...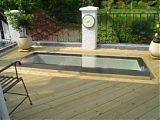 The Flushglaze fixed flat glass skylight can be tailored to meet many shapes and sizes from square, rectangular, triangular and a recently completed tear drop shaped Glazing Vision will identify...
Back to Windows