Estairs UK Ltd

Contact Details
Address:
Unit 82, John Player Building
Stirling Enterprise Park
STIRLING
FK7 7RP
Phone: 0131 552 0665
Fax: 0844 357 6868
Company Statement
estairs are a leading distributor of Italian designed staricases.
The stairs provide a wonderful combination of beauty and
strength and are available in a wide choice of frame ad tread
colours. choose from SPIRAL- FLIGHT- CPACESAVER designs. To
see the full range please visit our website www.estairs.co.uk or
contact to assist with your project in detail
Products from Estairs UK Ltd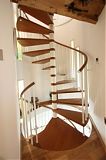 The Restoration Man, Episode 3 – The Windmill
Estairs are proud to have supplied the spiral staircase fitted to this outstanding conversion by Mr Clive Bolton assisted by The Restoration Man – George Clarke. The spiral staircase...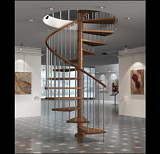 The V.Grande spiral stair is available in diameters of 180cm and 200cm. It features a wooden centre column to match the treads and handrail in either light Chestnut Stain or Natural Beech finish....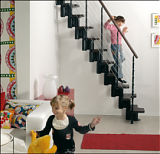 KYA is the staircase designed for the smallest spaces. It is created with varnished steel supports in black (RAL 9017), white (RAL 9010) or grey (RAL 9006), with black finishes for the black...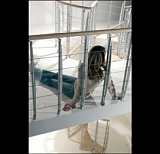 Welcome to the Scenik Collection from Albini and Fontanot, a stunning range of BESPOKE stairs that would enhance any home. Scenik is highly adaptable and may be tailored to suit virtually any...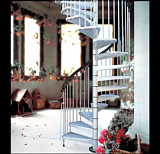 The Civic Zink combines long-term durability with high standards of quality and craftsmanship in design. The kits features include: • Galvanized for...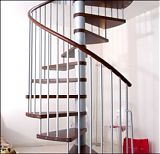 The Klan has many of the same features and benefits of the Civik model, but offers the sleek, warm look of solid beech, in a light natural finish or dark dye finish. The complete kit comes in one...
Back to Suppliers & Products Directory