The Rooflight Company
ILLUMINATING RUSKIN
Launching their 'Ruskin' show home from the new Renaissance collection at the Buildstore's National Self Build and Renovation Centre in Swindon, the UK's leading self build experts Potton Ltd are aiming to inspire with a stunning selection of properties named after eminent minds of the late 19th century. In order to introduce as much natural light as possible, the 'Ruskin' has been installed with products from specialist manufacturer the Rooflight Company.
Tel: 01993 833 108
Email: therooflightcompany@e-optima.co.uk

Phone: 01993 833108
Fax: 01993 831066
Email: info@therooflightcompany.co.uk
Website: http://therooflightcompany.co.uk
Address: Wychwood Business Centre
Milton Road
Shipton-under-Wychwood OXFORDSHIRE OX7 6XU
Other products from The Rooflight Company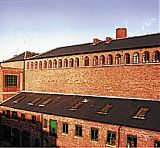 ROOFLIGHTS AT THE CUTTING EDGE IN SHEFFIELD A £4 million project jointly funded by a Townscape Heritage Initiative (THI) grant and 'match' funding from the local council has...
Back to Lighting