Accoya® wood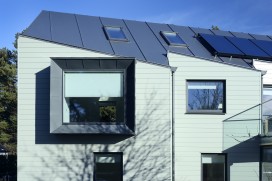 Accoya® has a fast growing reputation as the timber to use when coated timber cladding is required.
It can be used in a wide variety of applications and situations because of its long life, strength and low maintenance requirement.

The performance of Accoya® has been extensively researched and repeatedly demonstrated both in tests and in practical applications.

• The acetylisation process results in Class 1 Durability, with Accoya® equalling or exceeding the durability of tropical hardwoods, such as teak or Meranti.
• Outstanding dimensional stability means there is little warp, twist, swelling or bending, making Accoya® ideal for coated cladding.
• The process not only retains the natural strength, beauty and light weight of the wood but adds increased hardness and makes Accoya® virtually rot proof.
• Accoya® is made to a very stringent highly consistent quality resulting in a 60 year service life.
• The consistent measurable quality runs all the way through the wood allowing us to provide a wide variety of profiles and a product that can be cut and machined on site with no resultant loss in quality.
• Russwood will be opening a new paint and coatings line in early 2009; this means that we will be able to ensure the quality of painting and coating of our timber cladding.
• A major advantage for customers concerned about the cost of natural products is the low ongoing maintenance cost, with a recoating life cycle of 12 years.
• Consistent supply from FSC certified forests, coupled with the environmentally friendly acetylisation process means that Accoya® is 100% recyclable, non-toxic and naturally renewable.
• Accoya® can also be fire retardant treated.
Accoya® wood is the material of choice for exterior cladding where an extremely durable, high quality appearance is required, with a stained or painted finish.

For further information please see www.russwood.co.uk or e-mail mail@russwood.co.uk.
Download brochure
Accoya® wood
Phone: 01540 673 648
Email: mail@russwood.co.uk
Website: http://www.russwood.co.uk
Address: Station Sawmill

NEWTONMORE PH20 1AR
Other products from Russwood Ltd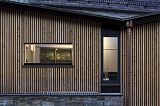 This species has long been used for cladding in North Europe. If specified generically, Larch can vary considerably in quality. Siberian Larch into the naturally durable timber...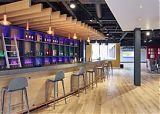 Authentic is our name for our truly luxurious range of aged and distressed oak flooring products. A luxurious flooring choice which evokes a feeling of times past, this aged and distressed...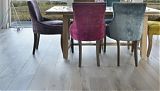 Brushed oak is our range of contemporary, textured flooring products. To create this effect, wire brushes are used to pull out the softer spring wood, exposing the harder summer wood, thus...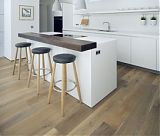 A smooth contemporary take on oak flooring - the sleek, natural look of these modern boards can unify and enhance any modern living space. Which grades are available? The Classic range is...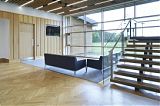 Parquet flooring is the term applied to geometrically patterned wooden block flooring. Oak blocks are laid down in a pattern to achieve a look which has long been associated with prestige and...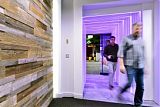 As timber specialists, we always look for new ideas and innovations that translate into industry leading products. Our range of interior wall cladding has been developed to inspire interior...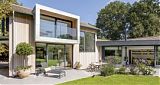 Russwood have been selected as premium UK specification partners of Sioo. We are excited by this collaboration and believe it to be a major step forward in offering timber with a consistently...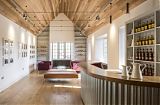 A blank canvas; our unfinished oak flooring gives you complete control over the look and finish of your floor. Unfinished flooring is also commonly referred to as "untreated" or...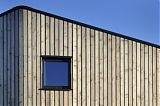 Scotlarch®
Scotlarch® is the registered trade name for Russwood's selected heartwood of Scottish-grown European Larch. Larix Decidua has long been used for cladding in North Europe, and is...
Back to Cladding