Leaderflush Shapland - Plasform Range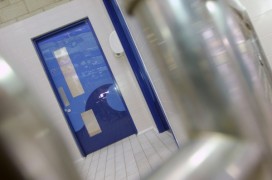 The Plasform® Range of postformed doorsets has been developed to meet the ever demanding needs of applications such as education, health, pharmaceutical and the 'high tech' industries where hygiene, safety and operational requirements are of vital importance. This patent concept of radiused edges on door leaves allows laminate and PVC facing options to be postformed around the edges of a timber doorset. A wide choice of facings in decorative laminates, high-impact resistant PVC (Hygieniform) and a back-printed clear facing provides wipe down flush surfaces which do not support bacterial growth. Increased impact resistance and low maintenance are just a few of the advantages of the Plasform® range.
Hygieniform PVC is a new innovative facing option to the Plasform® Range. Hygieniform incorporates the antibacterial additive - Hygienilac - and has been added to the matrix of the PVC providing protection throughout the complete 2mm thickness. It protects against harmful bacteria such as C.diff, MRSA, E.coli and Salmonella as well as being suitable for 'Severe Duty' applications.
Phone: 01773 530500
Fax: 01773 530040
Email: enquiries@leaderflushshapland.co.uk
Website: http://www.leaderflushshapland.co.uk
Address: Milnhay Road
Langley Mill
NOTTINGHAM NG16 4AZ
Other products from Leaderflush Shapland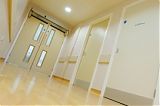 The Designer Range provides architects and specifier's with complete design freedom in flush doors and doorsets. Numerous facing options are available, such as veneer, PVC, paint and metal...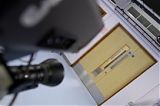 The Extended Performance Range offers enhanced characteristics in the areas of: • Acoustics - up to 49 RwdB • Fire Resistance - From FD30 - FD120...
Back to Doors