Dales Aluminium Building Products

Contact Details
Address:
Crompton Road
ILKESTON
DE7 4BG
Phone: 0115 930 1521
Fax: 0115 930 7625
Principal Contacts:
Sales Agent for Scotland:
George Brownlie
Company Statement
Dales offer full design and supply services for aluminium integrated eaves solutions including drainage where appropriate. Dales also provide solar shading systems called Shadex.
Recent Projects
Largs Academy

Products from Dales Aluminium Building Products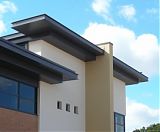 Dales design and supply bespoke eaves line systems complete with secondary support to enable accurate fitting. The systems often incorporate drainage gutters and rainwater pipes. Dales have...
Back to Suppliers & Products Directory