Steadmans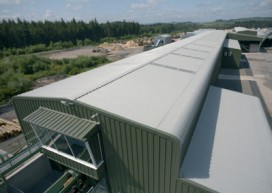 STEADMANS SUPPLY SAWMILL'S COMPLETE BUILDING ENVELOPE

Steadmans manufactured and supplied all the building envelope materials for Howie Forest Product's impressive new £15M Kenmuir Sawmill on the outskirts of Dalbeattie in south west Scotland. Installed by steelwork and cladding contractor, T.A. Kirkpatrick & Co, these Plastisol colour coated materials comprise 10,000 square metres of roofing, cladding and vented cladding sheets together with a wide range of matching flashings.
Tel: 01697 478 854
Email: cladding@steadmans.co.uk

Phone: 01506 437 753
Fax: 01506 440 716
Email: info@steadmans.co.uk
Website: http://www.steadmans.co.uk
Address: 14 Grange Road
Houston Industrial Estate LIVINGSTON EH54 5DE
Other products from Steadmans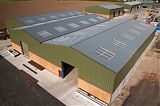 COMPOSITE QUALITY! Steadmans manufactured and supplied all the AS35/1000 composite roof and wall panels required by contractors J. Wareing & Son Ltd to design and build their own new...
Back to Cladding