Naughtone
NAUGHTONE PINCH LOW

naughtone is proud to launch the extension of the Pinch range the Pinch Low. This new product which recently won the "Best Design" award at Design Prima 2008 combines our skills as upholsterers with key knowledge of the industry. As with all naughtone upholstery the frame is made from solid beech whilst the fabric is finished with beautiful double seams. The Pinch low now offers true flexibility within the collection making it perfect for hospitality, commercial and domestic scenarios.

Phone: 0113 242 7403
Website: http://www.naughtone.com
Address:
Other products from Naughtone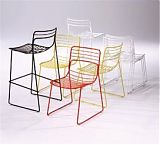 NAUGHTONE REG CHAIR AND STOOL The Reg chair range is light on the eye and provides a comfortable form. Available as a standard side chair and elegant barstool, both options neatly stack....
Back to Furnishings & Interiors