Fenestra Group

Contact Details
Address:
14 Cutlins Road
EDINBURGH
EH11 4DG
Phone: 0131 538 8123
Fax: 0131 477 2112
Company Statement
Fenestra Group are specialist suppliers and installers of Window Film and manifestation, Blinds and Cubicle curtains and tracking. Scottish distributor for Yewdale Bridge products including Movatrack cubicle tracks, Defiant blinds and Kestrel Anti-Ligature systems. Fenestra offer a free design and scheduling service for blinds and cubicle tracking.
Products from Fenestra Group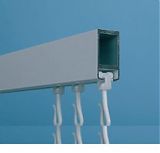 FENESTRA With outbreaks of infection hitting the headlines, Movatrack has been designed with infection control in mind. Many specifiers now insist on Movatrack due to its inherent design...
Back to Suppliers & Products Directory