Urbis Lighting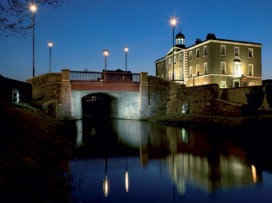 URBIS TURNS DUBLIN CANAL BRIDGE INTO A BEACON OF LIGHT
The La Touché Bridge in the Portobello area of Dublin, spans the famous Grand Canal. The council refurbished the two original cast twisted columns lighting the bridge deck. Urbis then supplied two of their Albany lanterns with microreflectors. To create a focal point, Urbis floodlit the underside of the bridge using four carefully positioned Neos floodlights.
Tel: 01256 354 446 Web: www.urbislighting.com

Phone: 01256 354 446
Fax: 01256 841 314
Website: http://www.urbislighting.com
Address: Telford Road
Houndmills
Basingstoke HAMPSHIRE RG21 6YW
Other products from Urbis Lighting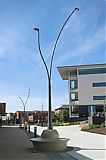 ORGANIC THYLIA LUMINAIRES FOR WILLOW ROW Willow Row lies in the centre of Derby, and is a key pedestrian and cycle route. In keeping with the name of the road and the Willow tree's...
Back to Lighting