HIMACS launches a new collection of basins
HIMACS is extending its range by adding nine new versatile basins to its standard bathroom collection.
The new HIMACS basins collection includes nine attractive models, flush and top-mounted, providing designers with more design options for bathrooms and washrooms, in both residential and commercial settings. In all cases, designers can achieve seamless and extremely hygienic installations thanks to the properties of HIMACS.
Two new squircle top-mounted basins are now available – adding to the existing range which already consisted of square, rectangular and circular shapes. These are designed to sit on top of vanity units or bespoke designed surfaces. The overall range offers design diversity no matter what the project requirements.
Mix and match is a very popular option, especially for renovation projects where there is a desire to combine old and new materials and styles for an eclectic design. The warm feeling to the touch which is characteristic of HIMACS and the sleek design of these basins marry perfectly with other materials and surfaces: natural concrete, warm natural wood or vintage tiles for example.
Seven new flush-mounted models have also been added to the range. These basins are designed to be used with a HIMACS work surface, giving a seamless super hygienic finish. The addition of a HIMACS splashback or full wall covering will complete the flawless design.
A bathroom needs the highest standards of hygiene and functionality – which HIMACS meets with ease. Its completely seamless finish provides a totally smooth surface, preventing the accumulation of dirt, mould and bacteria. Moreover, its resistance to the most aggressive cleaning agents guarantees a long-lasting durability without any discolouration.
All HIMACS basins are manufactured using a high-tech casting process which ensures the highest product quality and maximum design flexibility.
Phone: 01732 897820
Email: info@himacs.eu
Website: https://www.himacs.eu
Address: LX Hausys Europe GmbH
Suite 5
80 Churchill Square
Kings Hill
West Malling KENT ME19 4YU
Other products from HIMACS
When it comes to surface design trends, there's one look that's had a huge impact on both residential and commercial interiors alike. That's right, we're talking Terrazzo,...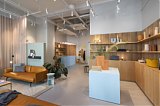 Rooted in the Scandinavian design tradition and characterised by enduring aesthetics, functionality, craftsmanship and an honest expression, Muuto is a leading name in the contemporary European...
HIMACS, the solid surface material, in the iconic shade of Alpine White, was chosen for the surface of the kitchen island in this completely renovated former ballet school converted into a private...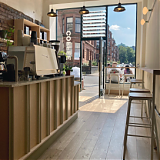 The 1841 coffee and espresso bar in Glasgow uses HIMACS for some Italian flair. In 1841 the Thomson Coffee Roaster company was formed, and nearly 200 years later this great coffee and espresso...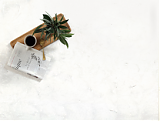 HIMACS presents the new Aurora Colours. From the HIMACS Marmo Collection, inspired by Aurora Borealis The new Aurora Colours are inspired by the natural beauty of the Northern...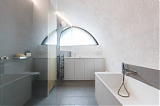 Something of an iconic London building in the world of brutalist architecture, the semi-circular Frobisher Crescent located above London's Barbican Centre makes quite an impact. Originally...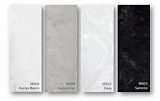 Four new Marmo and two new Concrete colours have been added to the HIMACS colour collections addressing today's top trend to emphasize nature and a reconnection to the natural world where...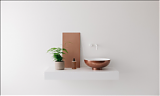 The new and elegant copper finish of the Noon basin from Not Only White with HIMACS After the success of the Noon collection from Not Only White with HIMACS, the Dutch brand has been inspired...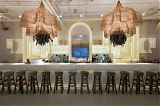 The paradise just around the corner – HIMACS lends luminosity to The Paradise Now bar in Düsseldorf HIMACS provides glorious visual impact at the new hybrid restaurant, bar, bistro...
Back to Bathrooms