Scandinavian design brand Muuto chooses HIMACS for its flagship European showrooms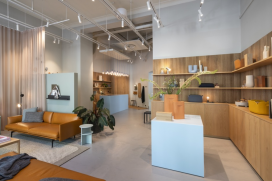 Rooted in the Scandinavian design tradition and characterised by enduring aesthetics, functionality, craftsmanship and an honest expression, Muuto is a leading name in the contemporary European furniture market. Across three showroom and flagship spaces in Paris, Stockholm and Copenhagen Muuto presents the very best of creative and forward-thinking designs. HIMACS was chosen as the prefect material for the display blocks and signage due to its hygienic and flexible properties.
Along with their Stockholm flagship store and the Copenhagen showroom, the Paris location showcases Muuto's collection of new perspectives on Scandinavian design across furniture, lighting and accessories. The 235 sq m space provides a modern retail experience that features HIMACS by LX Hausys in Sapphire from the Lucent collection and the iconic Alpine White for the modular display blocks, and the signage inside and out.
With its flexibility and special characteristics, HIMACS is the perfect material choice for commercial projects, refits and renovations. HIMACS is exceptionally durable, hardwearing and resistant to wear and tear, weather, fire and UV rays. Moreover, its non-porous surface makes the material totally waterproof and easy to clean so it can be used indoors and out.
The absence of visible joins also not only ensures a smooth, uniform look, it also prevents dirt, bacteria and viruses building up on the surface. This makes HIMACS a Solid Surface material with unbeatable hygienic properties, guaranteed by certifications that comply with LGA and NSF international standards.
ABOUT THE PROJECT
Project: Muuto showrooms in Paris, Stockholm and Copenhagen
Material: HIMACS Sapphire and Alpine White
Elements in HIMACS: Display blocks and signage inside and out
Photos: © Muuto
HIMACS. Because Quality Wins.
Phone: 01732 897820
Email: info@himacs.eu
Website: https://www.himacs.eu
Address: LX Hausys Europe GmbH
Suite 5
80 Churchill Square
Kings Hill
West Malling KENT ME19 4YU
Other products from HIMACS
When it comes to surface design trends, there's one look that's had a huge impact on both residential and commercial interiors alike. That's right, we're talking Terrazzo,...
HIMACS, the solid surface material, in the iconic shade of Alpine White, was chosen for the surface of the kitchen island in this completely renovated former ballet school converted into a private...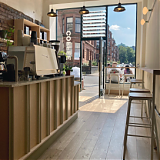 The 1841 coffee and espresso bar in Glasgow uses HIMACS for some Italian flair. In 1841 the Thomson Coffee Roaster company was formed, and nearly 200 years later this great coffee and espresso...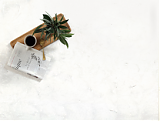 HIMACS presents the new Aurora Colours. From the HIMACS Marmo Collection, inspired by Aurora Borealis The new Aurora Colours are inspired by the natural beauty of the Northern...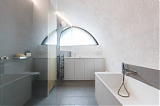 Something of an iconic London building in the world of brutalist architecture, the semi-circular Frobisher Crescent located above London's Barbican Centre makes quite an impact. Originally...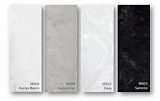 Four new Marmo and two new Concrete colours have been added to the HIMACS colour collections addressing today's top trend to emphasize nature and a reconnection to the natural world where...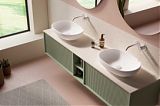 HIMACS is extending its range by adding nine new versatile basins to its standard bathroom collection. The new HIMACS basins collection includes nine attractive models, flush and...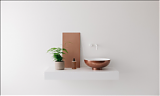 The new and elegant copper finish of the Noon basin from Not Only White with HIMACS After the success of the Noon collection from Not Only White with HIMACS, the Dutch brand has been inspired...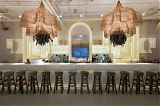 The paradise just around the corner – HIMACS lends luminosity to The Paradise Now bar in Düsseldorf HIMACS provides glorious visual impact at the new hybrid restaurant, bar, bistro...
Back to Surfaces