Thermopine® Cladding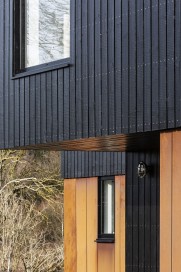 Russwood's Thermopine® is suitable for use on a wide-range of projects, often utilised to create both modern and natural looking facades. In its sawn state, Russwood's Thermopine® has a uniform chocolate-brown colour tone which will quickly weather to grey if left uncoated, however due to the superior coating performance over species such as Larch, boards are most commonly supplied pre-treated using our Teknos® factory coating system with black being the most popular colour choice.
The appearance after factory coating is largely determined by which surface finish is opted for. When coated in a translucent Teknos® coating the knots and figuring become attractive features, particularly when a brushed surface is opted for. In contrast, an opaque Teknos® RAL coating will largely disguise the knots and figuring to create a more plain vernacular.
Sawn from slow grown, small diameter logs, Thermopine® boards display attractive, tight grain figuring with an abundance of live (structurally sound) round and splay knots, some of which may display small cracks or chipped off edges after machining.
Thermopine® Specifications
Heartwood of Scandinavian grown Scots pine

Thermally modified to create dimensionally stable, Durability Class 2 (as per BS EN 350-2) material free from resin. Only heat, steam and pressure used in modification process; free from chemicals

Moisture content of approximately 6-8% (+/- 2%)

Centre-cut to only include live knots. Unlimited number and size of knots, pith allowed

In maximum 15% of goods, chipped off parts of knots permitted

Lengths of 2.4m to 5.7m with 95% above 2.7m

PEFC certified product, sourced from sustainable forests
Phone: 01540 673 648
Email: mail@russwood.co.uk
Website: http://www.russwood.co.uk
Address: Station Sawmill

NEWTONMORE PH20 1AR
Back to Wall Coverings