PORCELANOSA Scotland Limited

Contact Details
Address:
2 Rocep Drive
Braehead
GLASGOW
PA4 8YT
Phone: 0141 533 1000
Principal Contacts:
UK Marketing Manager:
Nicola Tresadern
Company Statement
Founded in Vila-real, Spain in 1973, PORCELANOSA established itself in the UK in the early 1980's and has had a strong presence ever since.

With more than 45 years' experience, the Group subsists in 150 countries worldwide, an achievement that is attributable to its unique business model.

Now a global leader in design, manufacture and distribution of interior design furniture, trend setting its cutting-edge designs, PORCELANOSA is a powerhouse within the tile industry and the bathroom sector as a whole and is working its way up the list to become kitchen retailer of the year.

Production diversification has played a key role in its growth. In the UK, PORCELANOSA offers not only tiles but kitchen and bathroom products as well as building solutions for contemporary architecture through its eight brands including facades and raised access flooring. It also offers design services, with experienced designers, for those bespoke products across 22 showrooms nationwide.

PORCELANOSA's consolidated position has been built up on values such as innovation and quality, but specially the trust placed in its large human capital, made up of almost 5000 skilled professionals, and its concern for its stakeholders and the environment. Its staff help produce, market and deliver the tiles, kitchen and bathroom products to more than 400 company owned showrooms, distribution centres and an extensive network of independent distributors and retailers.

With the aim of making unique ceramic tiles out of white clay imported from northern Spain and overseas rather than the more common red variety found in local quarries, PORCELANOSA focused its efforts on creating ornamental value instead of just volume and function.

The care and conservation of the environment has always been one of PORCELANOSA Group's major concerns. Sustaining our lifestyle and the crucial environmental balance requires specific policies and noticeable actions. Always keeping ahead of specific market trends, PORCELANOSA has been implementing improvements to its production systems for more than 30 years aiming to minimise the impact on the environment.
The Group's environmental strategy goes far beyond the optimisation of production systems; as its efforts are also centred on the design of products that contribute to the reduction of water and energy consumption in the home.

Across the board, its products stand out for their high-tech properties, innovative design and unbeatable quality.

Recent Projects
Wynard Park
Braeholm
Center Parcs
Northwood Grange
Sanctuary House
110 Queen Street
Ulster Hospital
Sleepdorm Hotel
Toni Macaroni Restaurant
Elliot's Restaurant
Lido
The Scores
Dales Properties
Awards
Most Distinguished Tiling Company 2019 - Build
Prestige Award Winners
Best Ceramic Interior Products Manufacturer - LUXLife
Products from PORCELANOSA Scotland Limited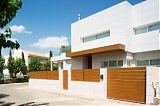 There are a variety of different types of façade: Ceramic Ventilated Bonded The ceramic tile is a material that has been used throughout history to cover and...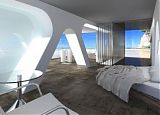 KRION™ is a next generation solid surface developed the by PORCELANOSA Group. It is a material similar to natural stone. The composition of KRION™ consists of two-thirds natural...
Back to Suppliers & Products Directory