Façades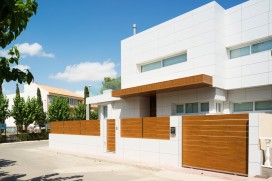 There are a variety of different types of façade:
Ceramic
Ventilated
Bonded
The ceramic tile is a material that has been used throughout history to cover and decorate façades. STON-KER™, the ideal material for façades - a porcelain tile with outstanding technical and aesthetic properties. It is a light material with practically zero water absorption that is highly resistant to chemical and atmospheric agents. Extensive research is carried out into the development of high-tech ventilated façade systems, today considered to be the most efficient, safest form of exterior cladding. Ventilated façades ensure high-energy savings for buildings of up to 20 or 30%. In addition, their multilayers improve on buildings' sound insulation, a factor of major importance in cities with high noise levels. KRION™'s proven resistance to unfavourable weather conditions and the development of advanced fixing systems mean that this advanced material can be used in ventilated façade projects. It is unaffected by sudden weather changes, extremely damp conditions or arid climates, making it the perfect covering for any building. In addition, the ability to thermoform this material means that any design can be created. Outstanding technical and mechanical characteristics, and slim line thickness (leading to a lower weight) all make XLight tiles perfect for use on big façades both in conventional or ventilated façade systems. XLIGHT tiles can be used on bonded façades or ventilated façades. With bonded façade systems, the substrate must first be prepared before it is clad with tiles, using appropriate adhesives. Mechanical fastenings are normally used as an extra form of reinforcement. Butech and L'Antic Colonial, two PORCELANOSA Group companies, have recently worked together to present their most exclusive ventilated façade system. Ventilated facades clad in natural stone ensure a touch of warmth and distinction that other materials cannot provide.Benefits of the facades clad in natural stone: energy efficiency; insulation from the cold in winter and heat in summer due to the air cavity between the façade and the building; sound insulation inside the building; insulation from damp; and savings on maintenance costs.
Phone: 0141 533 1000
Email: braehead@porcelanosa.co.uk
Website: http://www.porcelanosa.com/uk
Address: 2 Rocep Drive
Braehead GLASGOW PA4 8YT
Other products from PORCELANOSA Scotland Limited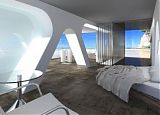 KRION™ is a next generation solid surface developed the by PORCELANOSA Group. It is a material similar to natural stone. The composition of KRION™ consists of two-thirds natural...
Back to Building Products