Art Deco House in Laurenckirk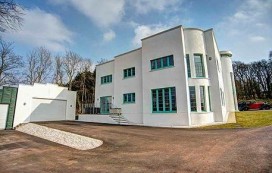 This was less than straightforward, as far as house designs go.The house had a round tower 9m high, graded staircase on a long curve with stepped windows, parapet walls concealing a hidden monopitch steel roof. The design was passed to Scotframe to produce the specification, and we suggested that they use the JJI floor joists supplied as flooring cassettes, which reduces on site construction time, and was a real bonus for installing the heat recovery system. Another time saver with the closed panel system from Scotframe was the fact that very large panels were made in the factory, and then craned in to position on site. The whole of the lower floor was erected in 3 1/2 hours, fixed, secured and no need to insulate! As the house design was art deco, the windows were an important feature-trying to achieve the look and the finish and several suppliers were approached to no avail. The house needed small astragals with minimal frames, preferably timber, totally draught proof, painted finish on the outside, natural finish on the inside. Scotframe found a manufacturer whose windows matched the criteria. The finished house is unusual in that it has five corners and appears to have no roof-and each corner is different, viewed from the front corner, it looks like a tower with a curved extension.

Made in Scotland
Phone: 01467 624 440
Fax: 01467 624 255
Email: inverurie@scotframe.co.uk
Website: http://www.scotframetimberengineering.co.uk
Address: Inverurie Business Park
Souterford Avenue INVERURIE AB51 0ZJ
Other products from Scotframe Timber Engineering Ltd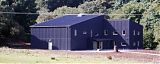 Mull Theatre
cotframe Plays its Part in New Life of Mull Theatre No fuss, no drama. This may be an unusual request from a theatre company, but when it came to building its new production centre, it's...
Back to Timber Frames