Mull Theatre

cotframe Plays its Part in New Life of Mull Theatre No fuss, no drama. This may be an unusual request from a theatre company, but when it came to building its new production centre, it's exactly what Mull Theatre wanted. The project needed a bespoke architectural design that was able to house a rehearsal stage, a set building workshop, a costume room and administration facilities. Situated in the isolated and often wild climes of Mull, the building also needed to be erected quickly and thermally engineered to the high regulatory standards that will see it cope with whatever weather the island has to throw at it. Then there were the constraints of time and money that come with most projects and the unique set of logistical challenges that building on Mull carries. Transport to the island is limited, the weather can be tricky and skills and labour are not always readily to hand. All in all it was a real challenge.

Made in Scotland
Used in Scotland's New Building:
Phone: 01467 624 440
Fax: 01467 624 255
Email: inverurie@scotframe.co.uk
Website: http://www.scotframetimberengineering.co.uk
Address: Inverurie Business Park
Souterford Avenue INVERURIE AB51 0ZJ
Other products from Scotframe Timber Engineering Ltd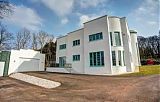 Art Deco House in Laurenckirk
This was less than straightforward, as far as house designs go.The house had a round tower 9m high, graded staircase on a long curve with stepped windows, parapet walls concealing a hidden...
Back to Timber Frames