Bona Titan
When you're faced with a special wood floor challenge, a unique project or a high value installation where the quality of the bond needs to be guaranteed, then it's time to turn to Bona Titan. Titan is a new silane based adhesive for wood floors, developed by Bona and comprising Titanium technology that gives it unbeatable bonding strength making it the ideal solution for large, heavy, oversized solid boards. Its quadruple crosslinking formula delivers ultimate durability and the fastest possible bonding. If the subfloor is sound and dry Titan can be used without a primer. The hard silane based formulation contains no ingredients that can migrate after curing, which eliminates all risk of discolouration at the joints. The smooth, thick consistency produces stable ribs, with an extremely high grab and zero risk of hollow spots. Solvent free and Greenguard certified as a very low emission product, Titan has been developed inline with Bona's commitment to products that have minimal environmental impact and are safe to work and live with. Bona Titan complies with ISO 17178.
Download brochure
Bona Titan
Phone: 01908 525 150
Email: info.uk@bona.com
Website: http://www.bona.com
Address: 6 Thornton Chase
Linford Wood

MILTON KEYNES L14 6FD
Other products from Bona Limited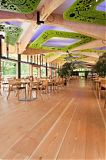 Bona Traffic HD - the world's toughest and fastest drying finish for wood floors exposed to extreme wear. You can walk on it after just 12 hours. Used in hotels, restaurants and airports worldwide,...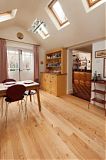 Providing the natural look of an oiled floor but, when you need extra surface protection, Bona Craft Oil 2K can be overcoated with all versions of Bona Traffic two component waterborne lacquers....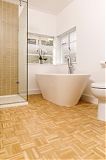 A waterborne lacquer designed to recreate the look and feel of pure, untreated wood for floors in public or commercial areas. Also suitable for use in homes. The finished surface is smooth and easy...
Back to Flooring