Tarkett Starfloor self-adhesive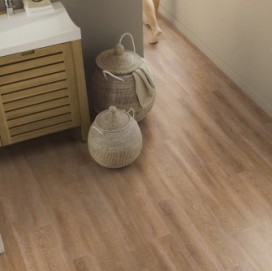 The self-adhesive Tarkett Starfloor range consists of three collections: Tarkett Starfloor Ceramic, Tarkett Starfloor Classic, and Tarkett Starfloor Vintage. These are technically identical, and only serve to sort the decors by style. A total of 16 decors is available, with wood and stone looks. The self adhesive backing works with a removable film, and serves to make installation as easy and quick as possible. Thanks to the low structural height of 2 mm, it physical can be installed virtually anywhere. The wear layer is 2 mm thick, for a wear class of 23 and suitability for bedrooms, kids' rooms and dining rooms. It can be used in small home offices, too, as the floor is resistant to castor chair use. Slip resistance is R9, fire safety class Bfl-s1, 2dB impact noise reduction and polyurethane surface coating are all standard.
Phone: +441264 980370
Email: info@bricoflor.co.uk
Website: http://www.bricoflor.co.uk/
Address: 130 High Street MARLBOROUGH SN8 1LZ
Other products from Bricoflor Limited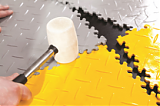 Garage floor tiles are categorised as heavy duty industrial flooring, capable of withstanding heavy loads, like fork lifts, trucks, etc. The garage floor tiles have clean and neat design to...
Architects all over the world appreciate the freedom, of design offered by the enormous variety of ceramic wall and tile products for a wide variety of applications – supplemented by...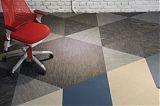 Athena woven vinyl is a relatively young product on the market. It consists of vinyl yarn and strips, woven and heat-rolled to fixate everything. This results in a product with an unique and...
Gerflor Senso Lock is a durable and versatile vinyl click flooring family. The 28 available designs cover different styles of wood and stone, to accommodate many different interior styles and...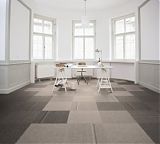 Modulyss has focused their influence and strength as a manufacturer, on modular carpeting. Modulyss is acclaimed for their high quality and elegant designs, as well as sustainable manufacturing...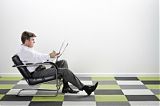 The top of the range carpet tiles from SCHATEX® stand for functionality, quality and design. The collections cover the entire spectrum from good value products for use in your living rooms, to...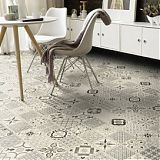 The Tarkett Starfloor Click collections are a click vinyl flooring family. The different collections are Tarkett Starfloor Click 30, Tarkett Starfloor Click 50, and Tarkett Starfloor Click 55. The...
Back to Flooring