Garage Floor Tiles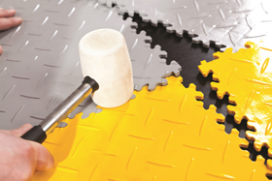 Garage floor tiles are categorised as heavy duty industrial flooring, capable of withstanding heavy loads, like fork lifts, trucks, etc. The garage floor tiles have clean and neat design to accommodate application in various environments such as warehouses, distribution centres, retail stores, commercial gyms, exhibitions or even domestic spaces. Exemplary applications include railway stations, airports, passenger terminals, power plants, hangars and fire stations. The garage floor tiles can withstand heavy traffic and are resistant to abrasion, impact and the penetration of liquids - including oils, solvents, acids etc. The PVC floor tiles are resistant to mechanical and chemical damage, and thanks to their interlocking mechanism they are easy to install, repair and remove if necessary. They are equipped with an Air-Flow anti moisture system to prevent the accumulation of water/liquids and enhance the floor breathability. The garage floor tiles are available in three different patterns: snakeskin, diamond plate and coin top, which come with matching ramp /corner tiles. They can be installed quickly and effortlessly without any special preparations, creating ready-for-use, dust-free and anti-skid surface. When installed the garage flooring provides thermal, acoustic and water insulation. Please contact us for any samples or technical enquiry you may have.
Phone: +441264 980370
Email: info@bricoflor.co.uk
Website: http://www.bricoflor.co.uk/
Address: 130 High Street MARLBOROUGH SN8 1LZ
Other products from Bricoflor Limited
Architects all over the world appreciate the freedom, of design offered by the enormous variety of ceramic wall and tile products for a wide variety of applications – supplemented by...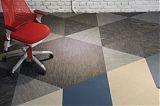 Athena woven vinyl is a relatively young product on the market. It consists of vinyl yarn and strips, woven and heat-rolled to fixate everything. This results in a product with an unique and...
Gerflor Senso Lock is a durable and versatile vinyl click flooring family. The 28 available designs cover different styles of wood and stone, to accommodate many different interior styles and...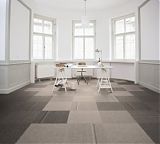 Modulyss has focused their influence and strength as a manufacturer, on modular carpeting. Modulyss is acclaimed for their high quality and elegant designs, as well as sustainable manufacturing...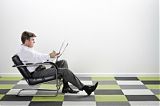 The top of the range carpet tiles from SCHATEX® stand for functionality, quality and design. The collections cover the entire spectrum from good value products for use in your living rooms, to...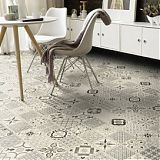 The Tarkett Starfloor Click collections are a click vinyl flooring family. The different collections are Tarkett Starfloor Click 30, Tarkett Starfloor Click 50, and Tarkett Starfloor Click 55. The...
The self-adhesive Tarkett Starfloor range consists of three collections: Tarkett Starfloor Ceramic, Tarkett Starfloor Classic, and Tarkett Starfloor Vintage. These are technically identical, and...
Back to Flooring