Splash
Splash is our most hard working washrooms and will perform in all environments. Splash Washroom Features Manufactured from extremely durable 13mm Solid Grade Laminate. Durability increased by structural headrail and through-fixed hinges. With the option of a full height cubicle for complete privacy. Can be adapted for prison environments. 2100mm high. 100mm floor clearance. Splash is perfect for washrooms that experience a high level of traffic; it is also extremely robust and can withstand vandalism. Every part of the cubicle is constructed to provide ultimate durability, including the headrail that overlaps the pilaster and the pedestal legs set to the front of the cubicle for added rigidity. To strengthen the toilet cubicle further the hinges are through fixed. Splash is a product that will work in nearly every environment. For a Secondary School it is perfect as can withstand the wear and tear, it can also be specified as a full height cubicle for complete privacy. For Leisure environments, Splash performs well in a wet environment and works as a toilet cubicle, changing cubicle or shower cubicle.
Download brochure
Splash
Phone: +44 (0)141 336 4040
Fax: +44 (0)141 336 4433
Email: contact@interplansystems.co.uk
Website: http://www.interplanpanelsystems.com/
Address: Unit 2/2 Brand Place
Govan GLASGOW G51 1DR
Other products from Interplan Panel Systems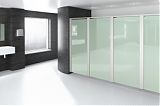 Bringing style and flexibility together. Minima has always encompassed the very best of contemporary, minimalist design and this year it has been lovingly redesigned and improved by our...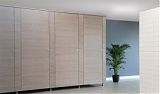 Urban is a sleek washroom cubicle that offers affordable style to any washroom. Urban Washroom Features: Cubicle exterior completely free of fixings and flush fronted Pedestal legs are set...
Back to Cubicles