Urban
Flush fronted with a floating appearance, Urban is the epitome of style and durability. Available in over 30 laminate colours with both standard and floor to ceiling height options, Urban is an all-round solution that can meet the needs of the most demanding specification.
With the option of specifying the doors and pilasters in either Solid Grade Laminate or High Pressure Laminate, Urban will provide a strong and durable washroom system that can meet even the toughest of specifications. The vertical edges are rebated which enable the outside face of the door to close flush with the outside face of the pilaster, providing a sleek flush fronted cubicle.
Whilst Urban's exterior is kept free of fixings, internally modern and hardwearing Satin Anodised Aluminium fixtures and fittings are used including pedestal legs that are set back, creating a floating appearance, these are adjustable to accommodate uneven floors.
Urban is robust and vandal resistant, ideal for high traffic environments that need to withstand the test of time such as leisure environments, public areas and schools.
Features:
Flush fronted contemporary cubicle system
Modern floating appearance
Manufactured from Solid Grade Laminate
Suitable for both dry and wet environments
Stainless Steel fixtures and fittings
Available in over 30 laminate colour

Made in Scotland
Download brochure
Urban
Phone: +44 (0)141 336 4040
Fax: +44 (0)141 336 4433
Email: contact@interplansystems.co.uk
Website: http://www.interplanpanelsystems.com/
Address: Unit 2/2 Brand Place
Govan GLASGOW G51 1DR
Other products from Interplan Panel Systems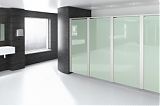 Bringing style and flexibility together. Minima has always encompassed the very best of contemporary, minimalist design and this year it has been lovingly redesigned and improved by our...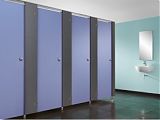 Splash is our most hard working washrooms and will perform in all environments. Splash Washroom Features Manufactured from extremely durable 13mm Solid Grade Laminate. Durability increased...
Back to Cubicles