Minima
Bringing style and flexibility together. Minima has always encompassed the very best of contemporary, minimalist design and this year it has been lovingly redesigned and improved by our dedicated New Product Development team. Minima offers a flexible and diverse cubicle system that can be used across the board in any sector. The stunning, uncomplicated frame is now cast in satin anodised aluminium, offering a modern and sleek finish while remaining extremely durable. The pilasters are exceptionally slim creating a flush aesthetic with the pedestals set back to give the illusion of a floating cubicle. Minima is available in a wide range of materials including laminate, veneer and glass. You can specify veneer or High Pressure Laminate (HPL) with 30mm MDF doors for a truly impressive look or even combine HPL divisions with veneer fronts for a completely bespoke solution. Each material has its own specially designed hinge, adjustable to return the door to an open or closed position. The quality of Minima shines through no matter which material is specified. When you specify High Pressure Laminate (HPL) or wood veneer divisions a specific seamless fixing system is used. Minima Glass is supplied with a stainless steel hinge and all headrails are finished with stainless steel end caps. Minima Dimensions: Overall Standard Height - 2120mm. Floor Clearance Standard - 100mm. Minimum Ceiling Clearance - 25mm. Pilaster Widths - 100mm.
Download brochure
Minima
Phone: +44 (0)141 336 4040
Fax: +44 (0)141 336 4433
Email: contact@interplansystems.co.uk
Website: http://www.interplanpanelsystems.com/
Address: Unit 2/2 Brand Place
Govan GLASGOW G51 1DR
Other products from Interplan Panel Systems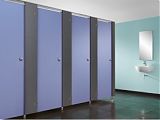 Splash is our most hard working washrooms and will perform in all environments. Splash Washroom Features Manufactured from extremely durable 13mm Solid Grade Laminate. Durability increased...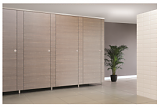 Urban
Flush fronted with a floating appearance, Urban is the epitome of style and durability. Available in over 30 laminate colours with both standard and floor to ceiling height options,...
Back to Cubicles