FAKRO FPP-V, FPU-V and PPP-V preSelect roof windows

The FAKRO preSelect range offers scope to switch from top hung to centre pivot operation simply by use of a switch in the frame.This mode of operation is one of many for which FAKRO holds patents. Top hung operation enables the sash to be left open in any position up to 35° so that a user may stand in an open window. Centre pivot function enables the sash to be rotated through 180° to clean the outer pane from within the room or operate an awning blind. With the handle at the bottom of the sash, the glazing area is up to 16% bigger than a traditional roof window with its vent in the handle. FAKRO windows also utilise a vent which is activated by changes in atmospheric pressure to prevent heat loss. They also have as standard the patented topSfae system of anti-burglary hinge and lock reinforcement. The FPP-V is of natural pine, the FPU-V white, PU-coated pine and the PPP-V PVC.
Phone: 01283 554755
Fax: 01283 224545
Email: sales@fakrogb.com
Website: http://www.fakro.co.uk
Address: Fakro House, Hearthcote Rd
Astron Business Park SWADLINCOTE DE11 9DW
Other products from Fakro GB Ltd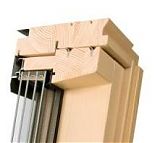 The FAKRO FTT U8 Thermo is the first quadruple-glazed roof window to be available as a standard product. Available in 19 standard sizes beginning at 550mm x 980mm, it has a system of 5 seals, uses...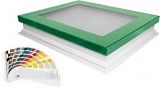 FAKRO DEC and DEF flat windows offer the choice beteen a domed or traditional flat profile window.Thermally efficient triple or quadruple-glazed units can be ordered, the DEF U8 offering an...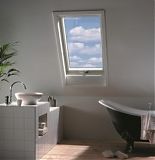 FAKRO centre pivot windows are the FTP-V (natural pine), FTU-V (white PU-coated pine) and PTP-V (PVC). All benefit from features such as the automatic air vent to save heat loss, the TopSafe system...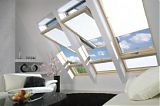 FAKRO roof windows with a raised pivot point enable the glazing span to be far longer. This is fully balanced so that, in every other respect the window is used in the same way as a centre pivot...
Back to Roof Lights