FAKRO FTT U8 Thermo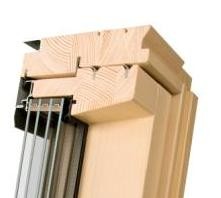 The FAKRO FTT U8 Thermo is the first quadruple-glazed roof window to be available as a standard product. Available in 19 standard sizes beginning at 550mm x 980mm, it has a system of 5 seals, uses warm spacers between panes and is made using close-grain pine. With a U-value of 0.58W/m2K it is ideal for Passivhaus, EnerPhit and similar airtight / energy-efficient standards of construction. The FTT U8 has a specially designed sash to minimise thermal bridging and can be used in conjunction with a thermal flashing. It has a raised pivot point to enable even a tall person to stand in an open window. As with other FAKRO roof windows the FTT U8 can be installed at three depths to suit the type of tile or slate on the roof. Being non-vented, the FTT U8 is ideal for homes in which an MVHR system is to be installed. PLEASE NOTE THAT BESPOKE SIZES ARE MANUFACTURED TO MEET SPECIFIC PROJECT REQUIREMENTS AND ALL FAKRO WINDOWS CAN BE PRODUCED IN CONSERVATION STYLE. Aberdeen University has the first commercial Passivhaus building in Scotland and 18 FTT U8 windows, all in bespoke sizes, were used.
Phone: 01283 554755
Fax: 01283 224545
Email: sales@fakrogb.com
Website: http://www.fakro.co.uk
Address: Fakro House, Hearthcote Rd
Astron Business Park SWADLINCOTE DE11 9DW
Other products from Fakro GB Ltd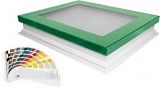 FAKRO DEC and DEF flat windows offer the choice beteen a domed or traditional flat profile window.Thermally efficient triple or quadruple-glazed units can be ordered, the DEF U8 offering an...

The FAKRO preSelect range offers scope to switch from top hung to centre pivot operation simply by use of a switch in the frame.This mode of operation is one of many for which FAKRO holds patents....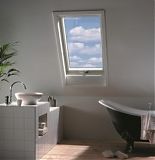 FAKRO centre pivot windows are the FTP-V (natural pine), FTU-V (white PU-coated pine) and PTP-V (PVC). All benefit from features such as the automatic air vent to save heat loss, the TopSafe system...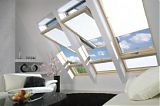 FAKRO roof windows with a raised pivot point enable the glazing span to be far longer. This is fully balanced so that, in every other respect the window is used in the same way as a centre pivot...
Back to Roof Lights