Chateau Oak Flooring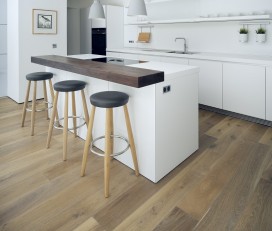 A smooth contemporary take on oak flooring - the sleek, natural look of these modern boards can unify and enhance any modern living space.
Which grades are available?
The Chateau range is available in a Character, Character/Prime and Prime grade, all of which feature boards which are carefully hand graded and selected to your specification.
Character Grade
Ideal for naturally inspired interiors.The beautifully prominent figuring with large, hand-filled and sanded knots illustrate the true, rustic nature of this product.
Character/Prime Grade
This grade retains a rustic charm but the knots are much smaller than those featuring in a Character grade board. This is a great option for those who like the natural effect of the wood but prefer a slightly more uniform appearance.
Prime Grade
Clean, contemporary and incredibly stylish. Each board has been carefully selected to ensure that the beautiful figuring of the wood is highlighted but, only small pre-filled and sanded knots are present.

Please visit our website for colour and size options www.russwood.co.uk
Phone: 01540 673 648
Fax: 01540 673 661
Email: mail@russwood.co.uk
Website: http://www.russwood.co.uk
Address: Station Sawmill

NEWTONMORE PH20 1AR
Other products from Russwood Ltd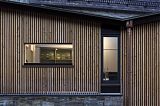 This species has long been used for cladding in North Europe. If specified generically Larch can vary considerably in quality. SILA A/B® is a registered trademark of Russwood. Russwood...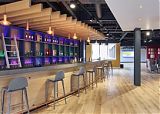 17th Century is our name for our truly luxurious range of aged and distressed oak flooring products. A luxurious flooring choice which evokes a feeling of times past, this aged and...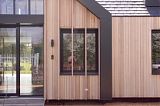 The perfect choice for architects who desire a flawless look combined with excellent durability and dimensional stability. Russwood re-saw and grade all boards to produce a vertical grain,...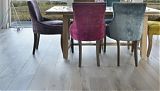 Brushed oak is our range of contemporary, textured flooring products. To create this effect, wire brushes are used to pull out the softer spring wood, exposing the harder summer wood, thus...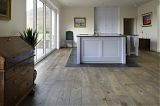 Truly unique and highly individual, this bespoke flooring option offers a very distinctive look and feel. Each board is cross-sawn and finished by hand using techniques reminiscent of bygone...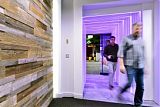 As timber specialists, we always look for new ideas and innovations that translate into industry leading products. Our range of interior wall cladding has been developed to inspire interior...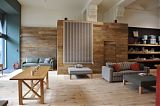 French maritime pine is a traditional softwood flooring option which can be considered as a cost-effective alternative to oak. As a rustic, knotty timber, French maritime pine is...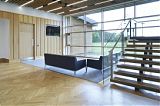 Parquet flooring is the term applied to geometrically patterned wooden block flooring. Small solid oak blocks are laid down in a pattern to achieve a look which has long been associated with...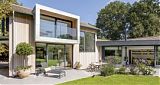 Russwood have been selected as premium UK specification partners of Sioo. We are excited by this collaboration and believe it to be a major step forward in offering timber with a consistently...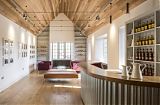 A blank canvas; our unfinished oak flooring gives you complete control over the look and finish of your floor. Due to the popularity of our unfinished range, we hold these products in stock...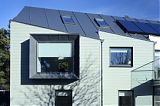 Accoya ® has a fast growing reputation as the timber to use when coated timber cladding is required. It can be used in a wide variety of applications and situations because of its long...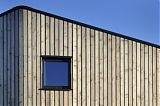 Scotlarch®
Scotlarch® is the registered trade name for Russwood's selected heartwood of Scottish-grown European Larch. Larix Decidua has long been used for cladding in North Europe, and is...
Back to Flooring