Guillotined Stone for cladding or building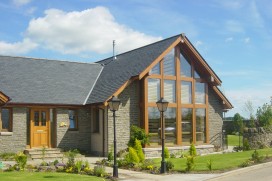 Guillotined stone is available in different sizes to suit your build. We recommend building the stone onto a breeze block skin or
SureCav
.
If it is necessary to build onto a cavity we recommend using a minimum depth of 140mm. Guillotined stone must always be built on the bed. Coverage figures will alter depending on depth of bed, build type and breakages etc.

100mm Coverage of approximately 2.9 sq m per 600kg bag
120mm Coverage of approximately 2.75 sq m per 600kg bag
140mm Coverage of approximately 2.5 sq m per 600kg bag
180mm Coverage of approximately 2.1 sq m per 600kg bag
Per square metre, the most cost effective depth is 140mm
You can achieve two very different effects using guillotined stone. A dry effect showing no mortar and a wet effect where the mortar is clearly visable.

Made in Scotland
Phone: 01382 370220
Fax: 01382 370722
Email: sales@denfindstone.co.uk
Website: http://www.denfindstone.co.uk/
Address: Pitairlie Quarry, Denfind Farm
MONIKIE, ANGUS DD5 3PZ
Other products from Denfind Stone Limited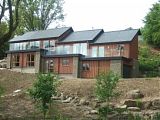 Client: AKG Homes Location: Pertshire Who and Where AKG homes are a family run property development company based in Aberfeldy in Perthshire who specialise in stone built houses...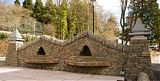 Copes
Copes We can offer dressed copes of vaying widths, 250mm-450mm, and prices vary according to size. Often used within the garden area to create stunning outdoor features, seats, barbecue...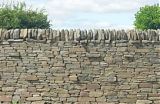 Dyking Stone
Dyking Stone Pitairlie Dyking Stone is handpicked with care ensuring that the stone is: Flat bedded
 Of varying dimensions 
A manageable size Once picked it...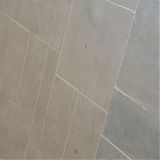 Flagstones
We are producing Angus flagstones which were world renowned in the 19th century. Our flagstones can be used both internally and externally. The dimensions that we can work within are;...
Client: Natural England Architect: Icosis Architects, Edinburgh Location: Lindisfarne, Northumberland Year: 2013 Awards: EAA Ambassador Award 2014, RIBA North East Award 2014...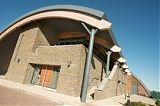 Client: St Andrews Links Trust Architect: Archial NORR Location: St Andrews, Fife Year: July 2013 Award: DIA Best Public/Commercial Building Project Award 2013 The Project...
Back to Cladding