03 _ Easterbush Campus
Easterbush campus is located south of Edinburgh city centre in Roslin. LDA Design was commissioned by the University of Edinburgh to undertake a landscape and public realm strategy for the campus which includes the design of a new central 'Academic Plaza'. The 'Academic Plaza' links the new Centre Building with the Roslin Institute and new Large Animals Facility in a single unified plane at the heart of the campus.

With over 40,000 square metres of new accommodation built, there are now just less than 2000 staff, students and visitors to the campus and the occupancy and footfall within the campus is set to increase significantly as the campus continues to expand over the next 20 years. LDA Design has worked closely with the university to develop proposals which form part of a wider landscape and public realm strategy which will shape the future of the campus.

Atkins' new Centre Building forms the central hub of the campus. The plaza setting creates a new centralised civic space which can be used for ceremonies and events, centred around a unique water feature and sculptural beacon. The vision for the public realm was to create an elegant, uncluttered, pedestrian-focused space that would improve the setting and provide a central point and new identity for the campus.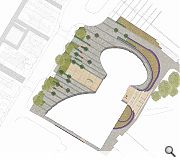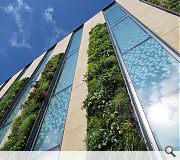 Back to LDA Design

Contact Details
Phone: (0)141 222 9780
Fax: (0)141 222 9789
Address:
Sovereign House
158 West Regent St.
No. of architects: 80
No. of staff: 140
Skills
3D visualisation
Appeals
Computer-aided design
Development briefs
Energy-conscious design
Environmental assessment
Environmental studies
Expert witness
Feasibility studies
Graphics/exhibitions
Heritage and nature
Landscaping design
Model making
New town planning
Perspective drawings
Project manager private sector
Project manager public sector
Rural planning
Sustainable design
Transportation Planning & Assessment
Urban design
Urban planning