Centre for the Scottish War Blinded
This is the third incarnation for the Scottish War Blinded; the original in Linburn House and the second in a purpose-built 1960's complex (both now demolished) to cope with the ever-expanding number of users. The new facility caters for the modern demands placed on the Scottish War Blinded and nestles within the shelter belt planting of Linburn House looking towards the Pentland hills. The approach responds to the historic nature of the estate, taking a winding route through the existing mature trees terminating in a carriage circle outside the new building allowing for easy access for visitors. Slate paving, set radially from the carriage circle, marks the entrance to the building. 
At the rear of the facility there is a garden designed specifically for the users. Based around the form of a conch shell, paths wind and intertwine offering a number of different routes through the garden but still allow the visually impaired to remain in a controlled environment. Material choices define paths and a timber deck softens the approach to the building. Planting beds give opportunity for outdoor therapy with easy access from all paths and a circular south-facing lawn gives a secure area for relaxation.
Back to RaeburnFarquharBowen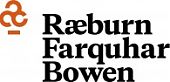 Contact Details
Phone: 01786 446446
Address:
No. of architects: 7
No. of staff: 11
Skills
Environmental assessment
Environmental studies
Feasibility studies
Heritage and nature
Landscaping design
Masterplanning
Signage and wayfinding
Sports
Sustainable design
Urban design
Urban planning