Taigh Solais Tobermory Isle of Mull, The Tobermory Harbour Association
The design of a new multi purpose building located within the Tobermory
conservation area comprising a Visitor Centre, public toilets, showers, laundry, 6
small offices and a meeting room and facilities for the MCA.
The design concept draws on the iconography of a lighthouse with its adjoining
service buildings. The contrast between the vertical element of the lighthouse and
entrance tower and a horizontal row or terrace of one and two storey 'fishing bothies'
sitting raised above the potential flood tides creates a strong image which can be
developed to clearly express client's affinity with the sea and their desire for the
building to welcome and help the visitors and local inhabitants who use the harbour.
It can also be used to create a visually strong and robust building which sits
comfortably within the 19th century fabric of the town.
The project was funded by the Lottery and Argyll and the Islands Enterprise.
Contract Period: April 2007 - June 2008
Contract Sum: £1,100,000.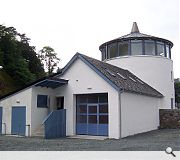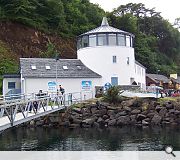 Taigh Solais Tobermory Isle of Mull The Tobermory Harbour Association
Back to John Renshaw Architects

Contact Details
Phone: 0131 555 2245
Fax: 0131 555 5526
Address:
No. of architects: 3
No. of staff: 3
Principal Contacts
John Renshaw