The Ballroom, Coodham House
Originally an Orangery, later converted in a Ballroom and subsequently used as a religious retreat the building fell into dereliction in the mid 1990's. The Ballroom has been restored by CDP to form a luxury four bedroom House
At the Heart of this 3 storey dwelling is the double height barrel vaulted living room comprising of a contemporary mezzanine entertainment space overlooking the main room.The main accommodation on the ground floor is composed on a linear axis served by a spine corridor.As well as the two ground floor bedrooms, 2 further bedrooms nestle in the cavernous basement.
Working closely with Historic Scotland, original details of the property such as the carved red sandstone pilasters & door surrounds, ornate cornices and oak panelled doors have been meticously formed and renewed to accurately match the original character of the building.

The renovation of the house allowed the fabric of the dwellings to be super insulated to minimise energy usage whist a holistic approach to integrated home technology has been adopted allowing lighting, sound and audio & visual entertainment to be controlled at the touch of a button.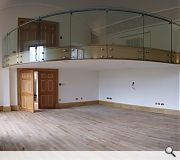 Ballroom Mezzanine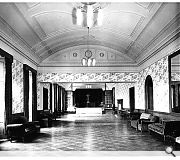 Original Ballroom Interior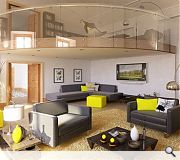 Visualisation of Living Room. Image by inlightin.co.uk
Back to CDP Architects Ltd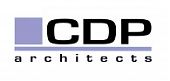 Contact Details
Phone: 0141 445 3974
Fax: 0141 445 5849
Address:
Moorpark House
11 Orton Place


No. of architects: 3
No. of staff: 10
Skills
Building failures
Community architecture
Energy-conscious design
Feasibility studies
Heritage
Interiors residential
Urban design