Strathnairn project
The work comprises a forest shelter structure in School Wood, Farr, Strathnairn. The structure comprises a large deck, sheltering roof and forty square metres of enclosable space – which itself fully opens by way of vertically opening doors, to the deck. The structure sits tight within its forest context, so tight that one tree grows through the decking which itself steps following the natural slope of the site. The site is on the edge of a natural clearing in the forest – the result of a wet area devoid of trees but rich in associated fauna and flora.
The structure was conceived as a flexible space anticipating a wide variety of uses and functions depending on season and need.
To maintain simplicity of implementation the structure has no services; water, power or waste. Provision however has been made with a small enclosure, for a compost toilet. A wood stove will provide warmth in times of cold weather.
The construction is entirely timber with the exception of minimal concrete pad foundations, areas of glass, metal fixings and a waterproof membrane allowing a living sedum roof covering.
Following design drawings and statutory approvals, trees were selected, felled and transported five miles for conversion returning once pre finished for rapid erection. The two timber species utilised are European larch and Douglas fir. These timbers while not native have become endemic in the Highlands over the past two hundred years. They have differing properties; strength, workability, season-ability, durability (use without chemical treatments) etc. The nature of each material therefore allows them to be complimentary within a construction context.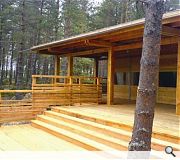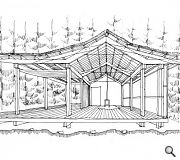 Back to Neil Sutherland Architects LLP
Contact Details
Phone: +44 (0)1463709993
Fax: +44 (0)1463709515
No. of architects: seven
Principal Contacts
Director:
Neil Sutherland