Balnafoich
The clients, artists from Edinburgh had a clear accommodation brief which included a single bed space with en-suite, study, separate shower / utility, bathroom and open plan public space. The simple form of the house was intended to reflect the agricultural buildings in the surrounding landscape. The simple open plan organisation of the building was designed to be a flexible space with potential to close off certain areas when needed.

A passive solar building, the long mainly glazed elevation is orientated to be roughly south facing, thermal mass is incorporated in the ground supported, well insulated concrete slab. The building is constructed throughout in timber materials sourced in the highland region. Spatially, the house gains volume on its small footprint from a series of Douglas fir rafters, curved at the ridge which sit on a 195mm deep timber panel with breathing construction specification. A service zone was formed to the inside of the panels to wall and roof allowing air – tightness and free routing of services. The house is clad externally with Larch vertical boarding without surface treatment and insulated to walls and roof with Warmcell cellulose fibre insulation. Chosen for its low embodied energy and similarity in aesthetic to that of agricultural buildings the roof was finished with Eternit Profile 6R roof sheeting with a gun metal grey finish. The bespoke nature of the roof meant that curved ridge pieces had to be specifically made.

The house has been finished internally with a limited palette of materials including oak flooring, slate, travertine tiles and granite worktop. A shadow gap detail can be seen throughout– above the flush skirting, up the side of the beams, round the door frames and under the oak capping piece. A sliding screen pulls out under the beam and when closed creates another room, the area above this glazed to minimise noise. The wood burning stove sits on a piece of granite which has been laid flush with the finished floor and concealed lighting and a shadow gap have been incorporated into the kitchen island.

In addition to passive solar means, space heating and domestic hot water is provided by a water filled thermal store. A wood fuel kitchen Raeburn provides the primary source of heat and a solar collector additional input.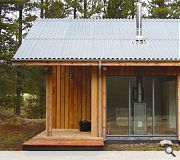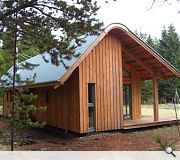 Back to Neil Sutherland Architects LLP
Contact Details
Phone: +44 (0)1463709993
Fax: +44 (0)1463709515
No. of architects: seven
Principal Contacts
Director:
Neil Sutherland