McIver house
The brief was to design a new family home, initially for two people but to be adaptable by a bay to accommodate additional people in the future. The house makes full use of the assets of the site; retaining an old wall to the front and capturing the views which can be obtained through and over it.

The house is entered at ground level under the covered balcony above. Ground floor accommodation comprises two bedrooms and the bathroom. A solid oak stair leads up to the open plan living and kitchen area which is almost fully glazed to the south, maximising solar gain and the views which can be seen over the wall. From the kitchen a covered balcony with glass balustrade can be accessed.

The building is constructed throughout in timber materials sourced in the highland region and has an Ecological non toxic specification, including vertical Larch cladding, Eternit profiled sheet roof finish and Warmcel Insulation. Thermal mass is incorporated in the ground supported concrete floor slab. A service zone was formed to the inside of the panels to wall and roof allowing air – tightness and free routing of services.

The house is heated primarily by an air source heat pump which links along with solar collectors to a water filled thermal store linked to under floor heating. The house also features a wood burning stove.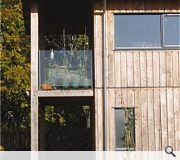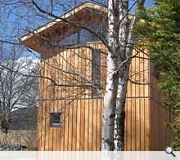 Back to Neil Sutherland Architects LLP
Contact Details
Phone: +44 (0)1463709993
Fax: +44 (0)1463709515
No. of architects: seven
Principal Contacts
Director:
Neil Sutherland