Titanic Signature Building, Belfast
AECOM has been appointed to provide Mechanical and Electrical design services for the new Titanic Signature project, a world class visitor centre and exhibition space in the heart of the Titanic Quarter, Belfast.
The £90m project will form a centre piece in the regeneration of the Titanic Quarter, once home to Harland and Wolff Shipyards and their most famour product RMS Titanic. This modern building will include a 'Flying Theatre' which allows visitors a birds eye view across Northern Ireland.
The Titanic Signature Project will bring alive the area's history and will attract visitors from across the world. The building is being designed with sustainability in mind and will make use of energy efficient design methods and harness renewable energy techniques wherever possible.
Internally, the project provides over 12,000m2 of floor space over 7 floors with a 2 storey underground car park spanning the area of the site. Generous ceiling heights allow for large scale exhibits, the lower levels being controlled environments, designed to create an atmospheric installation evocative of heavy industry or the depths of a ships hull.
Strips of under-lit glass have been used to create a dramatic 'carpet of light' rolled out across the floor. These lights imitate the rhumb lines of antique nautical charts and allow pedestrians to navigate to other local landmarks, forging connections between the museum's displays and the actual topography of the site.
The building has been designed to reflect the industrial legacy of Harland and Wolff and the wider impact of ship building and the sea on Belfast's development. The 4 segments of the building are instantly evocative of a ship's prows.
The reflection pools that spread out from its base further enhance the allusions to naval architecture, multiplying the reflections and nocturnal illuminations. The lower portions of the four wedges tell the education of ship building technology by being first clad with lapped timber planking, riveted iron, welded steel and finally aluminium.
The Titanic Quarter has been earmarked for development since 1995 and will eventually develop into a hi-technology orientated village in the mould of Paris's La Defense.
The project will also include the restoration of the Titanic and Olympic Slipways, the Thompson Dock and Harland and Wolff's former headquarters.
The project will commence on site in 2009 and is programmed to be completed by the first quarter of 2012, in time for RMS Titanic's centenary.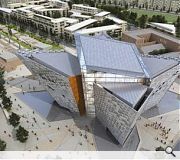 Back to AECOM

Contact Details
Phone: 0131 313 7600
Fax: 0131 313 7699
Address:
No. of staff: 43,000
Skills
3D visualisation
Civil & Structural Engineering Design