New Victoria Hospital, Glasgow
A modern new build 'Ambulatory Care and Diagnostic Hospital', approximately 30,000m². The new facility will be fit-for-purpose accommodation providing better access, faster response and a more varied range of appropriate therapies, facilities and services with ambitious, radical service improvement for users and carers.

By 2012, the new ACAD hospital will offer a completely different class of experience to staff and patients alike. The new purpose designed Victoria ACAD will provide out-patient, day case and day surgical appointments, which account for between 85-90% of existing workload to hospitals. The new ACAD will not have in-patient beds and will provide kidney dialysis and chemotherapy services – neither of which have ever been available South of the River Clyde.
Facilities Provided:
Day surgery unit
Treatments for blood disorders and cancers
Adult renal dialysis unit
Laboratory and pathology services
Minor injuries unit
Day hospital for the elderly and 60 new build in-patient rehabilitation beds for the elderly
GP out of hours service
Rehabilitation, therapy services including dietetics, physiotherapy, speech and language therapy, podiatry and occupational therapy
Various clinical facilities
Key Features
Structural design and drawings undertaken in a 3D environment
Integrated structural and building services 3D design models
Superstructure steelwork designed to act compositely with profiled deck floor slabs, to minimise steelwork tonnage weights. Approximately 2500 tonnes of structural steelwork
Design incorporates proprietary edge protection systems at all levels including roof eaves to improve on safety with respect to working at height.
Complex sloping site topography and underlying ground conditions, resulting in a piled foundation and under croft basement
Surface water drainage systems designed on site in accordance with Ciria 521 and Sustainable Urban Drainage best practice, utilising porous paving, filter trenches, attenuation storage tanks and vortex flow control systems.
The ACAD hospital facility will be designed under the new building regulations with certification of Design for the structural engineering by AECOM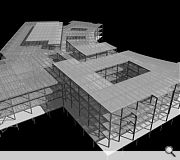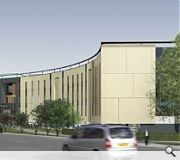 Back to AECOM

Contact Details
Phone: 0131 313 7600
Fax: 0131 313 7699
Address:
No. of staff: 43,000
Skills
3D visualisation
Civil & Structural Engineering Design