Exchange Place, Edinburgh
The development includes 3 new build high specification office buildings (2 seven storeys and one six storeys high) on the site of the former meat market on the corner of Fountainbridge and Semple Street.
The development will provide 200,000 sq ft office space and space for 2 restaurants. The complex design will see the original 19th century Fat Sams arches retained and replaced. The final scheme includes three speculative office blocks which are linked by a single storey combined basement which is enclosed by a 4.6m high unpropped in-situ concrete retaining wall.
All three buildings are steel frames with 150mm thick concrete slabs acting compositely with long spanning cellular primary and secondary beams. Columns are generally arranged on the internal cores and external façade line to maximise clear spaces. Most of the engineering design challenges rested in the complex geometry of the building structure.
Part of the design brief was to maintain a structure free façade which we did by using moment frames. A feature of the frontage is cleverly designed stone panels which give the impression of being suspended in front of the glazed walls. Structural stability of the two larger buildings is maintained through braced bays in the cores and moment frames to sections of the perimeter. Braced bays were also utilised in the smaller building but moment frames were not required.
The columns bear onto pad foundations which are integrated with the retaining wall base on the perimeter. The smaller building also incorporates a small number of piled foundations to the non-basement areas. We also had to link the new buildings to the existing adjacent buildings by forming a large opening in an existing retaining wall.
Re-instating the original 'Fat Sams' arches was a particular challenge and AECOM designed a new structure in order to support them. They will be moved to a less obvious location, but the areas meat market history will be recreated with imprinted images and commentary.
The building structure was modelled in 3D+AutoCAD software. This allowed the complex interaction between the various elements of the structure to be visualised by the structural design team, greatly reducing design and drawing time. The model was also a useful tool for other members of the design team and the contractor.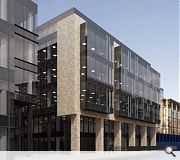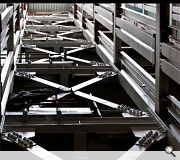 Back to AECOM

Contact Details
Phone: 0131 313 7600
Fax: 0131 313 7699
Address:
No. of staff: 43,000
Skills
3D visualisation
Civil & Structural Engineering Design