The Bridge, Easterhouse, Glasgow
The Bridge, Easterhouse
Project: New Theatre & Library
Year of completion: 2006
Client: Glasgow City Council
Project Value: £7.5m
Architect: Gareth Hoskins Architects


The Easterhouse Arts Factory (The Bridge) is the new flagship building within the recently created Easterhouse Cultural Campus. The Arts Factory creates a link between the newly refurbished public swimming pool and the existing John Wheatley College. The Arts Factory includes a 210 seat auditorium, recording suites, rehearsal spaces, library, cafe and the new offices of the National Theatre of Scotland. The building is a predominantly steel-framed structure comprising three main elements: the theatre, the library and the Den (a multi purpose arts space). The theatre is an uncompromising 50m by 17m by 12m tall structure with a composite steel and concrete roof deck, materials chosen for their acoustic properties. The library is a large open plan space, surrounded by ramped walkways linking the various facilities within the campus. The roof of the library is a distinctive feature supported by a 'forest' of slender tubular columns maximising the amount of natural light entering the building and creating a perception of 'lightness' to the visible elements of roof structure. The Den is a self-contained pod linked by a slender concrete bridge to John Wheatley College on one side and to the auditorium on the other. The new Arts Factory has created enormous interest amongst the local community and it is hoped that the development will act as catalyst for the revitalisation and regeneration of the area.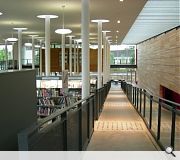 The Bridge, Easterhouse, Glasgow
Back to David Narro Associates Ltd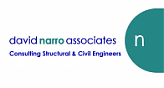 Contact Details
Phone: 0131 229 5553
Fax: 0131 229 5090
Address:
No. of staff: 57
Skills
Civil & Structural Engineering Design