An Turas
An Turas, Tiree
Project: Ferry Terminal Shelter
Year of completion: 2002
Client: Tiree Art Enterprises
Project Value: £100k
Architect: Sutherland Hussey Architects


Located near to the pier, this structure is designed as a 'shelter' for those intending to board the island ferry. Conceived in three parts it is hoped the structure will reflect some of the qualities of the island, distilled as a line in the landscape; the white walls, the bridge, the glass box. Once described by one islander as 'two walls and a telephone box with no phone' this project has received critical acclaim winning: The 2003 RIAS 'Best Building in Scotland' Award 2003, the gold medal for architecture from the Royal Scottish Academy, an RIBA regional award and short-listed for the Stirling Prize.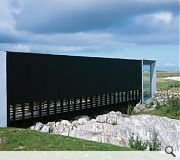 An Turas, Tiree
Back to David Narro Associates Ltd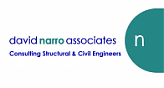 Contact Details
Phone: 0131 229 5553
Fax: 0131 229 5090
Address:
No. of staff: 57
Skills
Civil & Structural Engineering Design