National Indoor Arena & Velodrome, Glasgow
Client
Glasgow City Council

We are working with venue specialists Sport Concepts to deliver the showpiece for the 2014 Glasgow Commonwealth Games. The project provides two distinctly separate arenas under one roof. The arena and velodrome are linked by a 34m x 80m connecting buidling, which includes offices for the National Sport Federations.

Innovations & added value
The team is working with specialist velodrome and athletics track designers and seating suppliers to create the most effective and flexible solution. Economies have been made in the design by combining building elements, including changing rooms, plant and loading.

Status
Start on Site 2008.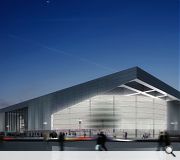 National Indoor Arena & Velodrome, Glasgow
Back to 3DReid

Contact Details
Phone: 0141 226 3030
Fax: 0141 226 3053
Address:
No. of architects: 145
No. of staff: 295
Skills
3D visualisation
Community architecture
Computer-aided design
Development briefs
Energy-conscious design
Environmental studies
Feasibility studies
Furniture/fittings
Interiors commercial
Interiors residential
New town planning
Office planning
Perspective drawings
Planning supervisor (CDM Regs)
Project manager private sector
Project manager public sector
Sustainable design
Urban design