Practice Statement
The ARPL philosophy is to produce unique designs for each client and each site. We are committed to delivering the most effective solutions for our clients delivered to meet their budget and timescale. Working with both new and historic buildings we produce buildings which are sympathetic to both the immediate and broader environment.
Recent Projects
New secondary school, Dublin
Theatre Royal, Dumfries
Georgian Tenement, Ayr, THI
New low energy primary school, Colmonell
Masterplanning, Ayr
24 houses and flats on the site of Ayr Cathedral
Restoration of Trinity Church, Irvine
A new beach house
Community Centre, Stranraer
School refurbishment, Ayr
Awards
ARPL Architects received numrous awards including from The Civic Trust; RIBA; Historic Scotland; APRS; Glasgow INstitute of Architects; Scottish Energy Systems Group.
Back to Architects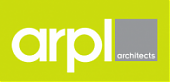 Contact Details
Phone: 01292 289777
Fax: 01292 288896
Address:
No. of architects: 7
No. of staff: 14