Practice Statement
David Narro Associates was established with the aim of providing a high-quality service from a committed and experienced staff. Motivation and a desire to extend the experience of the practice has led to expertise in such varied fields as conservation of ancient monuments, commercial and industrial projects, housing, hotels and leisure and the public sector. It is a policy of the practice to employ only highly qualified personnel, which ensures that senior members of staff serve clients with a wealth of experience.

Commissions to date have ranged from structural surveys of domestic and commercial properties to multi million pound commercial and housing developments, art centres and healthcare facilities. Clients cover an equally broad spectrum, from personal clients to government agencies, including commercial and industrial companies. The skills of the individual engineers are shown to their best advantage when designing innovative solutions to engineering problems. The challenges posed by old buildings requiring sensitive non-invasive strengthening or alteration and by modern buildings requiring architectural engineering are met with a flexible and inventive attitude to solutions.

Positive relationships with both clients and fellow professionals are vital to the successful outcome of any project and it is the policy of the practice to concentrate on maintaining these at the highest level. The initial discussions with the project design team can be the most fruitful for all parties concerned and it is essential that experienced senior personnel acting with the authority of the practice are available at that time. Ownership of a project by an individual engineer is a key policy of the practice. This encourages involvement and commitment leading to greater satisfaction and a better outcome for the Client.

All Directors and Associates of the Company are very interested in modern design and sustainability issues. We are striving to gain further experience of sustainable materials and construction techniques. As a company it is our intention to consider the specification of all materials and where possible to ensure that they comply with current thinking on embodied energy and sustainability. Cement production, for example, has high embodied energy and is a major producer of CO2. The choice of timber, insulation and non-fired bricks all allow a low embodied energy content in a building.

David Narro Associates provides a professional and friendly service supported by experience, expertise, and the latest technology. The staff are highly qualified, motivated and look on each new project with enthusiasm. Continuous professional development support and ongoing training keeps our team at the forefront of engineering principles and trends. The company has been Employee Owned since 2015.
New buildings which David Narro Associates Ltd have been involved in.
Scotland's New Buildings

Ashmolean Museum
Back to Consulting Structural Civil and Services Engineers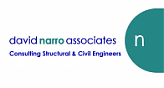 Contact Details
Phone: 0131 229 5553
Fax: 0131 229 5090
Address:
No. of staff: 57
Skills
Civil & Structural Engineering Design