Utility provider breaks ground on Irvine wind and solar park
Send to friend
* Required fields
|
Send to friend
October 4 2021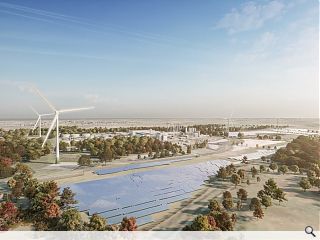 Renewables provider The Farm Energy Company is working with pharmaceuticals major GlaxoSmithKline to progress a major wind and solar park at its Irvine plant.
GSK has signed a 20-year power purchase agreement with The Farm Energy Company to draw 28MW of power, equivalent to 85% of the plant's energy needs, saving 10,000 tonnes of carbon each year.
To achieve this some 42,000 solar panels and support infrastructure will be laid across 56 acres of land adjacent to the factory, together with a further two 150m wind turbines to join the current pair. Once fully operational this will produce 45GWh of green electricity per annum, sufficient to power around 12,000 homes at the supply point in nearby Kilwinning.
Paul Holmes-Ling, managing partner and co-founder at The Farm Energy Company, said: "This is a significant milestone for GSK and we are delighted to have been able to realise their renewable energy ambitions which will not only have immediate benefits for the Irvine facility but will also create a legacy for the local community through significant bio-diversity improvements.
"We have been pioneering in our approach to combining different technologies in many of our projects. The combination of wind and solar in a large private wire scheme is best suited to GSK's requirements at the Irvine site, and innovative models like this can show how businesses can reduce costs, improve energy security, and achieve Net Zero goals at the same time."
Work is already well underway on the project which should complete by spring of next year.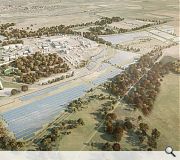 A corporate power purchase agreement means the infrastructure can be delivered with little upfront capital
Back to October 2021