Leeds Playhouse sets the stage for cultural renewal
January 21 2020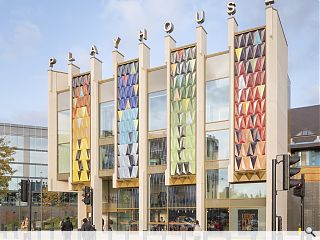 Page\Park Architects have followed up their work at Glasgow's Theatre Royal with a radical overhaul and extension of Leeds Playhouse to improve accessibility and establish a bright new frontage.
Driven by a need to rationalise a confused internal plan dating from its opening in 1990, not the least of which was being oriented in the wrong direction, the £13.4m transformation has seen the institution pivot to a new front of house area on St Peter's Street, advertised to the surrounding city with eye-catching ceramics.
This work augments a reimagining of the two main theatres and the addition of a new flexible performance space carved out of an underutilised 'rock void', purposefully retaining its raw and subterranean appearance.
Principle design moves include improved connections between the foyer and auditoriums, relocating the box office to the heart of the building and the creation of a new visual identity centred on ceramics and glazed pottery.
Detailing this dramatic new look the architects wrote: "The geometry of the façade, the colours of the ceramics and the tones of the internal finishes were all blended to create a holistic wayfinding scheme for Leeds Playhouse."
"The new entrance extension delivers a strong visual identity for not only Leeds Playhouse but also the wider cultural quarter located in Quarry Hill. The theatre building can now better support the artistic, Creative Engagement and Furnace artist development programmes, enabling Leeds Playhouse to remain a key player in Leeds City Council's commitment to delivering a world-class cultural programme, embedding culture at the heart of the city."
Leeds was given a boost when Channel 4 selected the city for its new national HQ.
Photography by Jim Stephenson
Back to January 2020