Stalled Aberdeen homes return as boarding school accommodation
|
Send to friend
January 10 2020
Aberdeen Council planners are being asked to approve plans to for a mixed residential build at Salisbury Terrace to provide boarding accommodation leased to the Albyn School.
Led by Dumrossie Land Development Company the variation od consent would adapt plans for mainstream accommodation to accommodate 16 pupils and two staff members with the ground floor left as a standalone property.
A former lock-up garage in the Great Western Road Conservation Area has been identified for the build with planning consent for six flats approved in 2012 which were never delivered.
Outlining several amendments to the approved design Ryden wrote: "Externally the appearance of the building will largely remain as per the approved flatted scheme, with a few minor alterations to window details.
"The lift, approved as a non-material variation, has been repositioned to the rear of the property, which will further reduce visual impact onto Great Western Road."
The scheme was first submitted for planning by Michael Gilmour Associates.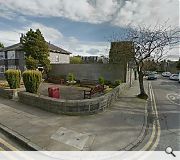 The 2012 scheme never progressed beyond foundation work
Back to January 2020