Wilson's Weekly Wrap: Murphy's House, Arts venue competition & Romanov's reward
Send to friend
* Required fields
|
Send to friend
August 29 2008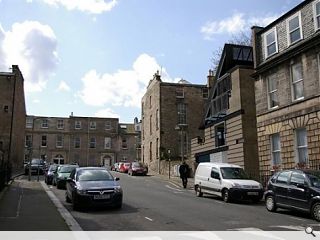 Arts venue – competition or shoe-in?
Out of the blue, a mystery group of financial backers have apparently assembled a £3m cash pot to help get a new culture centre off the ground. Not a specific centre mind you – the anonymous donors are prepared to consider a variety of applications, providing they come with an assurance that their detailed designs have the support of the City of Edinburgh Council.
An 18-month competition will decide where the money is to go, with the donors insisting on "sound artistic value, a robust financial plan and architectural excellence". The closing date has been set for Hogmanay 2009 so clearly there's not exactly a rush on to progress the idea, but maybe that will allow time for a well-organised design competition to deliver the 'architectural excellence' part of things. Already a couple of familiar projects are being dusted down for submission: the conversion of the old Royal High School on Regents Road into a national photography centre and a new home for the Edinburgh International Film Festival, the latter – as mentioned previously in this wrap – touted almost annually by Richard Murphy.
Surely though, some rather more democratic input – i.e. public demand – could generate ideas that might deliver genuine local, national and visitor interest. We have the National Lottery to thank for some inglorious excesses and the UK is now littered with failed or failing arts buildings for which there was no clear demand and no subsequent audience. Whilst Scotland (apart from 'the Big Idea' at Irvine) largely avoided empty gestures like the Millennium Dome or the worst kinds of Alsopian whimsy, it would be tragic to see the beginnings of 21st century philanthropic input to the capital's built environment misdirected into anything less than a remarkable project. It will however require some courage, imagination and possibly capital and revenue funding and/or land on the part of the City Council, none of which have been much in evidence of late. It will also require the profession to get off its backside and take a lead in driving discussion on what architectural 'excellence' really means. I wouldn't hold my breath on the latter though.
Murphy's House
Brief mention above of Richard Murphy reminded me that a final decision on his planning application for a new house for himself in Edinburgh's Hart Street is due on 9 September. Readers with reasonable memories will recall me musing on the opposition the project was encountering and the fact that planning officers were recommending it for refusal, but tenacious as ever, Richard has produced extensive presentation material aimed at countering the arguments being made against it.
As I suggested before, nobody who has ever walked down Hart Street could reasonably suggest the existing terrace gable and garden wall to the street are in any way attractive. Murphy's scheme takes care to preserve the passage to Gaia Architects' office and the rights of light to the three rather odd – and unoriginal – windows in the gable and – in recognition of the stepping nature of the adjacent Georgian buildings, has orchestrated the striation of the facing stonework on his design to follow suit. The pitched 'roof' too pays due attention to any possible overlooking issues to and from the rear of the terrace on Forth Street. What is really striking though is that this is a contemporary design that goes out of its way to accommodate the genius loci of this part of the New Town and whilst not perhaps to everyone's taste, should not be faulted on its intriguing reworking of the classical hierarchy of base, piano nobile and attic storeys.
Given its history to date, there is every chance the project will fall at the final hurdle of Edinburgh's Planning Committee, a result that will no doubt be greeted as a triumph by the forces of darkness and oppression that oppose most things in the New Town. The latter group should ask themselves, however, whether a replication of the existing mediocre terrace could actually answer all of the siting and technical questions quite as well as this project does. I for one would be happy to argue for it when it (inevitably) goes to appeal.
Romanov's Reward
Still on the subject of City of Edinburgh Council, is it really only just over a month since I last commented on the almost Siamese twin-like relationship between the city's elected representatives and Heart of Midlothian Football Club?
In the wrap of 18 July, I highlighted the Council's spectacular ineptness when it came to land deals, and speculating as to the future of the Tynecastle Stadium development. But, as with Meadowbank, the Council has almost certainly missed its financial moment, although this time it's thanks to the convolutions of the Planning process. The deal as was required Hearts to pay £1.8m for the Council-owned Tynecastle nursery school and adult learning centre, buildings which sit on land the club requires to rebuild its main stand. A further £4.1m deal to buy the former Tynecastle High School is in place, with that site earmarked for Phase II of the Tynecastle redevelopment.
The agreements of course are contingent on planning consent being granted for the £51m scheme, but with no date set for decision on whether or not permission will be granted, people close to the club are already making noises about renegotiating the financial aspects of the deal on the basis that land values are not anything like what they were. The big question remains: will councillors let their well-known affections for this particular football club override their responsibilities to the voters of Edinburgh? Either way, Hearts' owner Vladimir Romanov can't now lose and indeed – given previous evidence of the Council's poker-playing skills - could end up making even more money from this spellbindingly mediocre development.
Stirling prize – the betting odds change
As a follow-up to my previous appraisal of the short-listed contenders for the Stirling Prize, this week's announcement that Lauren Laverne, presenter of the BBC's 'Culture Show' - along with UN Studio's Ben van Berkel - had withdrawn from the judging panel because of 'scheduling problems' made me look again at the make up of this group. And what do we find? Curiously there is only one judge from England – AJ Editor Kieran Long - although, being a long time resident of London, Czech Eva Jiricna could be regarded as representing that country; two from Ireland in the shape of Shelley McNamara of Grafton Architects and star landscaper Diarmud Gavin; and Scotland's very own Gordon Murray of gm + ad architects.
The object quality of Zaha's Innsbruck project may tip the scales for Eva and Diarmud, but I wouldn't now discount Denton Corker Marshall's Civic Justice Centre in Manchester, given gm + ad's link-up with them for the Scottish Parliament competition. Gordon will no doubt be declaring an interest on this one, so the deciding shots could come from new kids on the block Shelley and Kieran. I'll do some more digging on the possible lines the latter duo might take before recommending where the strong money should be placed this year. Watch this space.
PR & Marketing Tip # 1 – Why do all the work yourself?
I promised a weekly marketing tip, so here's the first one to get the ball rolling.
After every reasonably sized project you complete you can be absolutely sure that all of the consultants, contractors and subbies involved will be harangued by advertising sales staff from some cruddy publication who want to fill space to accompany a 'feature' about the building. The less experienced of these companies might even take up the offer, but most will just be brassed off that you gave their contact details to the magazine.
Of course, you only did this because without this information they apparently wouldn't be carrying the feature. Lesson one: if approached in this way, and having considered it to be a worthwhile publishing opportunity, insist on providing the text and the photographs for the feature yourself rather than letting the magazine produce them for you. Often they only employ jobbing writers to cobble together some dross about the project as it appeared to them in some early construction shot.
This may seem like a lot of bother, but quality control is everything – if you want decent coverage of your hard work, don't leave it to other people. Of course this is quite different from bona fide building reviews of the project but, believe me, this type of coverage will happen whether you like it or not and its best to get a grip of it to prevent it being an opportunity lost. In any case, you can then provide the material to everyone involved in the project so that they can do some of your pr for you (they'll be sending their own stuff out anyway, so you may as well influence its accuracy and quality). And in true Bob Hope style, just make sure they spell your name right.
And finally, procurement – MoD style
If you ever thought the whole question of procurement had gone mad, the recent announcement of new Ministry of Defence rules on the subject will surely only confirm your suspicions. The Sustainable Procurement Charter is a government-wide initiative that has been sent out to defence suppliers – and which all have to sign - states: "SP is a process whereby organisations meet their needs for goods, services… and utilities in a way that achieves best value for money on a through life basis with minimal adverse impacts on the environment and society".
As the business section of the Times has wryly pointed out, this may prove to be quite a challenge for those manufacturers who now have to account for the environmental impact of making depleted uranium shells or who have to detail the social consequences of assembling cruise missiles. Just think yourself lucky you only have to deal with building materials.
Back to August 2008