Anderson Bell + Christie pen 22 infill homes for Carnwadric
Send to friend
* Required fields
|
Send to friend
September 4 2019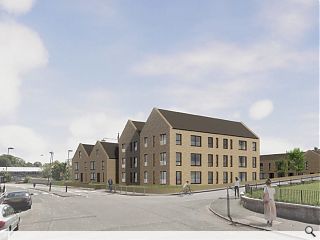 Glasgow Housing Association and Anderson Bell + Christie have progressed plans for 22 homes at Carnwadric Road, Carnwadric.
A parcel of scrubland, formerly the site of a community hall, has been allocated for the build which will constitute a mix of flats, townhouses and terraces off a new shared space.
Terraces will look directly onto a linear park with a corner block of flats marking a new access road opening up the interior of the site with properties mediating in height between existing four-storey tenements and two-storey houses.
In a statement, the architects observed: "The expressed gables onto Carnwadric Road help to heighten the elevations onto the street and break up the stepped massing. This language of expressed gables will be repeated onto the new private access road and helps create a dual aspect form for the blocks onto Carnwadric Road, therefore activating the courtyard and avoiding the language of fronts onto backs.
"There was also a consideration of creating an interesting roofscape for the existing surrounding residential blocks to look onto as they sit higher than the site."
Properties will be finished in buff brick through gable parapets under fibre cement roof tiles.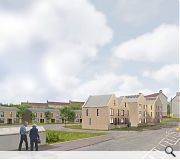 Properties will mediate in scale between dwellings on neighbouring sites
Back to September 2019