RMJM assess storm damage to New Orleans Charity Hospital
Send to friend
* Required fields
|
Send to friend
August 25 2008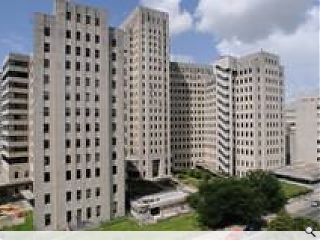 A comprehensive architectural assessment of the Medical Centre of New Orleans released this week, three years after hurricane Katrina, concludes that 'Big Charity' can be rehabilitated as a state-of-the art medical facility. The report by Edinburgh-based international architectural firm RMJM reveals that it would be quicker and significantly less expensive to renovate and modernise the hospital than to build a new facility.
Steve McDaniel, an expert in designing healthcare facilities with RMJM added: "Charity Hospital has the potential to be a very good healthcare facility in its design, floor space and close connection to a community with serious healthcare needs. Renovating and modernising Charity Hospital will take much less time and will be significantly less expensive than building a new hospital. Big Charity's current vacant state allows for an easier upgrade to a modern state-of-the-art facility including a new main entrance lobby on Tulane Avenue, a Level 1 trauma center and new patient-centered environment."
According to the assessment, the existing art deco building envelope, including exterior walls, windows, and roof, can be effectively restored. The structural system is extremely sound, and with a few modifications, it will be fully functional as a state-of-the-art healthcare facility. Having this useful and structurally sound building shell already in place should save at least 2 years off the delivery date of a new building and mean construction cost savings of at least 20 percent.
The assessment calls for the removal of all interior partitions, ceilings, and finishes to ensure that no environmental concerns remain and seeks a new interior fit-out of the entire building as well as an innovative entrance atrium. The recommended design will meet the latest code requirement for hurricane-force winds.
The National Trust for Historic Preservation added Charity Hospital and the adjacent Mid-City neighborhood to its 2008 list of America's 11 Most Endangered Historic Places because both the building and its surrounding neighborhood contribute to New Orleans' unique architectural landscape. Charity Hospital was closed by the LSU Health Sciences Center in September 2005 after Katrina and an assessment report commissioned in 2006 by the Louisiana Legislature.
Back to August 2008