Initial phase of 2,500 home Livingston 'village' hits planning
Send to friend
* Required fields
|
Send to friend
July 25 2019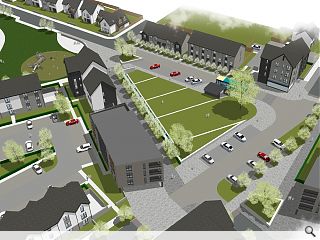 Springfield Properties have submitted plans for the first tranche of 502 homes at Gavieside Farm in Livingston, the first phase of what could ultimately grow to become a 2,500 home 'village'.
Occupying 400 acres of land to the south-west of the town the development seeks to be more than just a dormitory suburb by including a primary school, café and shops alongside flats and houses.
This follows the template laid down at four other villages being progressed around the country, including Dykes of Gray in Dundee.
Springfield chief executive Innes Smith said: "Gavieside will include a wide range of homes – including affordable housing. There will be local shops, cafes, other business opportunities and a new Primary school.
"We picture young couples buying their first flat at Gavieside, moving to a 3 or 4 bedroom home as their family grows, and then downsizing once their children have bought homes of their own with friends and family doing the same. We see local entrepreneurs opening independent cafes and shops and established businesses expanding to new premises – creating jobs and careers on people's doorsteps. And we will create village greens, play parks and communal areas giving kids somewhere to play close to home."
The ball now rests in West Lothian Council's court.
Back to July 2019